Would you like to Browse, Paint, Teach, Draw, Play, Write, Publish, Handwrite, Watch, Listen, Network, Learn or Sketch? Go ahead and click any link, and experience the many facets of ZCubes!
Or Create Albums, Homepages, Greeting Cards, and more... Or just want to look around or read News? Or create documents with ZAccessories? Create presentations and slide shows? Work on a spreadsheet? Or make a resume?
Or Chat with your friends? Or set up your profile? Or Login to ZCubes? Click, Drag-Drop, and just wanna have fun?
Important Note: ZName is your ZCubes enabled Internet ID for ZCubers. If you have not already gotten yours, Get your preferred ID today before it is gone!!!
Feature of the Week: Whiteboard
Back to the Whiteboard, Again!
Switch to the powerful ZCubes Whiteboard mode, and do math, science, business and politics - all at once. With the most powerful whiteboard application on the web, bring the teacher in you out again! Click and drag - forget Boone Boards(TM), ink markers and the chemical smells for now! With autosmoothing markers, set your mind free and sketch naturally. Red, blue, or green markers - It is your choice!
Check it out!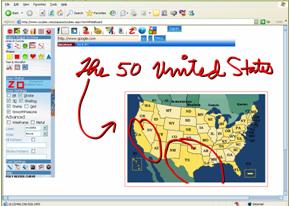 And with the fascinating ability to save your work to a file, email it to someone, or just save it to your hard disk, what else do you want from a Whiteboard? And drag and drop pictures and videos from all over the world to enhance your presentation experience! And imagine the power