ZBrowser

The Web. Your Way. Now!

ZBrowser enables you to break through the web-clutter and browse more efficiently
Power Browse
The ZCubes Browser bar is an integral part of ZCubes and acts as the gateway between ZCubes and the rest of the web. Simply type a URL in the browser bar and click Go; and the website opens in the built-in browser. It is the ideal solution for multiple browsing. Get search results from 5 websites (Google, Yahoo, Amazon, eBay and MSN) by using the Stardot Command (type your search item in the browser bar followed by a space and *. e.g. "nature *.") Each search is launched in a separate ZCube with further browsing capabilities.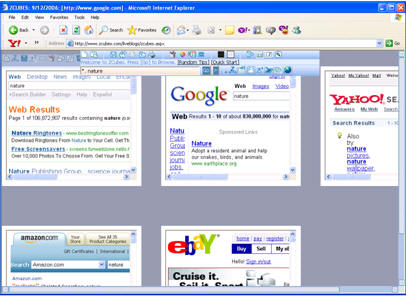 Capture, Drag & Drop
Create your own unique web experience with ZCubes by simply dragging and dropping your favorite links, videos, pictures, movies, songs and all kinds of content. Drag & drop the "Embed Tag" from Photobucket, YouTube, Google Video and other popular sites directly onto your ZSpace.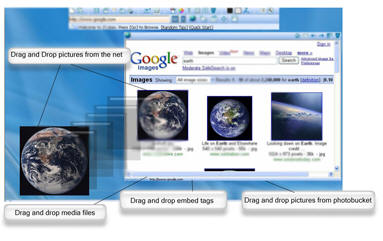 Mini Z
If you're fed up with traditional windows and tab browsing, you're going to love the MiniZ. MiniZ is a fully loaded mini browser that lets you browse multiple websites simultaneously. Type the URL in the browser bar, click shift and > to view a website in a MiniZ. Open multiple MiniZ's and view thumbnails of all your active web pages without worrying about losing the URL history. Shift and drag any link from any webpage and create a new MiniZ. Adjust the size of any MiniZ to your liking.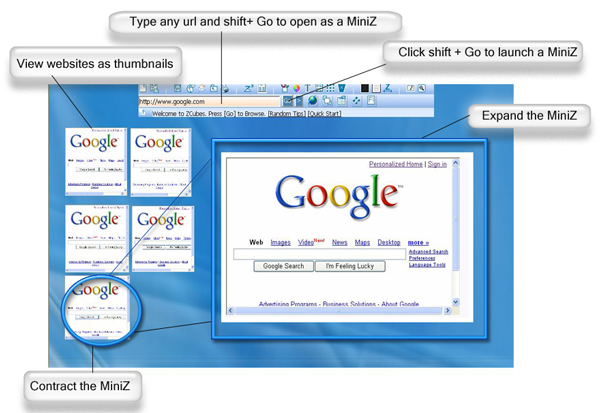 Create Shortcuts
ZCubes allows you to create your own shortcuts to access the web faster. To create a shortcut, type the URL in the power bar and click on "Add website shortcut", type your shortcut you want followed by a dot and click "Add". Then, when you type the shortcut in the browser, the selected website opens in the browser. (Example: m. could navigate to www.msn.com) The intelligent ZCubes platform stores your shortcuts for future use.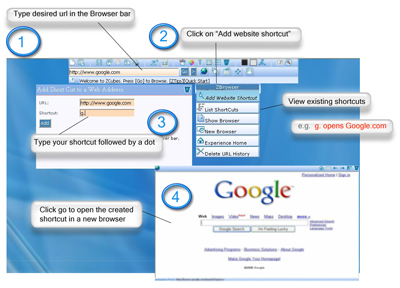 Transparent Browser
Make the browser transparent and get to a new level of multitasking. Create and store content in different layers. View multiple layers simultaneously by adjusting the transparency level of the browser.