ZPaint

It is Art. It is Fun.

Create unique artwork from colorful scribble to professional graphs, charts, diagrams and more
Paint on ZSpace and ZCubes
ZPaint combines the functionality of software like Microsoft Windows Paint, Microsoft Visio and Adobe Illustrator and lets you unleash your creativity on your ZSpace. Create unique artwork by applying color options to freehand sketches or multiple shapes either on the ZSpace or within an individual ZCube. Adjust stroke, fill and gradient settings for added effect. The paint tool comes a suite of tool tips and a step by step help menu. Share artwork with friends and family. Make professional graphs to share with colleagues. Unleash Your Imagination!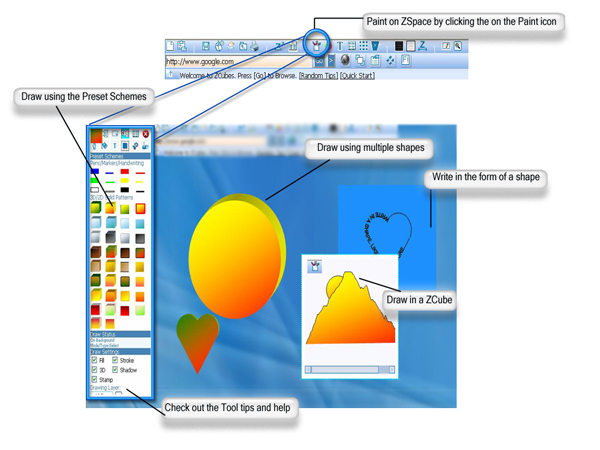 Curves, Gradients, Vertex Editing, Shapes ...
Use the most powerful drawing software on the web! Create bezier curves, apply gradients, adjust/insert/delete polyline vertices, open and close shapes, and much more. Mix in a little opacity, halo effects, picture in paint, etc., and you are in total control of your experience!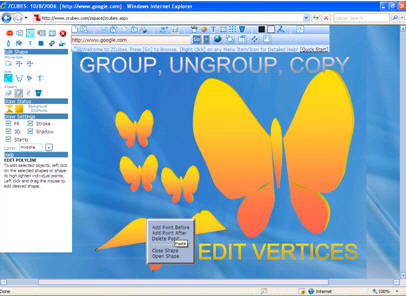 Preset Schemes
Choose from multiple preset pen and 3D settings to create professional graphics. No previous experience or programming required! Create beautiful sunsets or draw a virtual apple! The preset schemes are very useful in creating graphs, diagrams and presentations without the hassle of selecting the right combination of colors.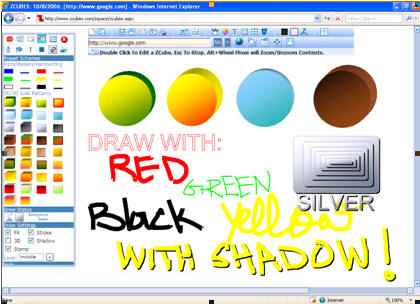 Move, Resize, Rotate ...
ZCubes makes it a snap to move, resize and even rotate different shapes. You can continuously edit and manipulate your graphics till you are completely satisfied. Erase specific elements only or the entire graphic to start afresh. Layer your graphics by piling different shapes on top of one another. Group different shapes together to create complex graphics. Don't worry If you are not big on freehand drawings. Poly lines and poly Bezier curves allow you to get the graphic results you want. You can also write text in the form of any shape. Try the ZCubes editing tool and unleash the creative artist in you!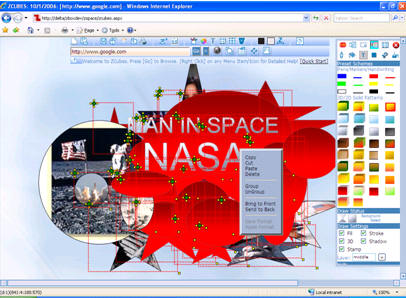 You can select group and ungroup objects (recursively) in ZPaint and adjust the visibility layer (Bring to Front/Send to Back). You can also copy a specific object's formats (Format Painter) and apply them to other objects. You can combine pictures with paint objects. You can create fabulous greeting cards, birthday wishes, notices, signs, etc. If you think it, you can create it!

Stored Settings
Settings can be stored just like the presets on your radio. Save graphical settings for quick reuse on elaborate and ongoing artwork. Store current graphical settings or selections to local memory for future use to a particular numbered icon. Quickly create elaborate web paintings and web pages by recalling the saved graphical settings.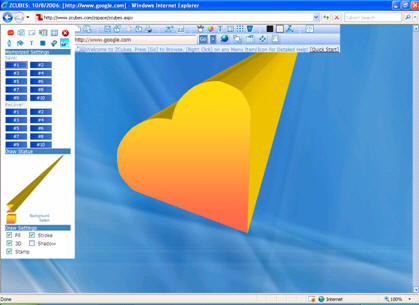 Special Effects
Draw multiple shapes and choose from different special effects to enhance your graphics. ZPaint enables the application of 3D effects, as well as linear, radial, rectangular and uniform glow effects including halo and gradient. Spotlights and shadow effects can be added to further enhance your artwork.